Roller Door Clamps
Roller Door Clamps can be used to provide additional security to a roller door, by securing the base of the doors to the floor at the inherently weak points of the door. Ramguard manufactures clamps which are ideal for commercial roller doors.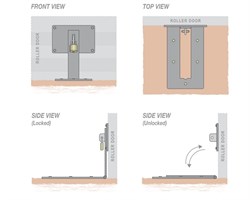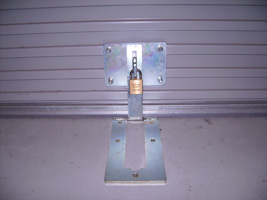 As standard, Ramguard Roller Door Clamps are available with the following features:
Easy to use with one piece clamp action (no parts to be lost)

Surface mounted, all fasteners and bolts provided

Simple tamper proof design, inside and out, which ensures the highest security

Sits flush with the ground when not in use to allow ease of access

Zinc coated for rust prevention
Our Roller Door Clamps are available with the following optional features;
Any colour (can be custom matched to your roller door colour)
Keyed alike, or individually
Keyed to suit your own system and all the locks in your premises for your convenience. i.e. one key opens multiple locks
Please click here to view the Roller Door Clamps Technical data sheet
Please enquire to our friendly sales staff for details.