Hand Rails, Gates & Pedestrian Barriers
Hand rails & Grab rails
Our hand rails are a strong, economical system for use in commercial and industrial applications as well as public access areas such car parks, shopping centres, traffic crossing areas, parks and foot paths. They can be designed to fit any area or space and are ideal for protecting your equipment and personnel as well as acting as a barrier for crowd control or directing traffic.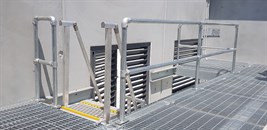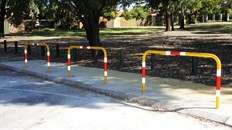 Our handrail systems are also designed to be low maintenance and easy to install. Suitable for indoor or outdoor use, they come with refelective tape as standard and are available galvanised or powder coated any colour to suit your exact needs. Please contact us for more information or to obtain a no-obligation quote.
Swing Gates
These can be designed and manufactured to suit any opening in order to block access to restricted areas. They are ideal for securing car parks, lane ways or drive ways and are available as a single or double gate on a surface mounted or below ground bollard. Please click here to view the technical data sheet.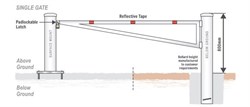 Permanent Chain Gate
These permanently fixed bollards wih chain gate fixtures are ideal for vehicle access to carparks, fenced driveways and security areas. Please click here to view the technial data sheet (on third page of document)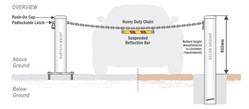 Pedestrian Barriers
Custom designed pedestrian fencing barriers are sectioned with permanent bollard posts and are are ideal for designating pedestrian access areas such as footpaths, carparks and walkways. Please click here to view the tecnical data sheet.