Pine Bollards
Ramguard Bollards offer a wide range of pine bollards and poles which are useful in a variety of settings including parks, vineyards and gardens. All of our bollards and poles are CCA or ACQ treated to comply with the Australian Standard H4.
Pine Bollards
Pine bollards are suitable for parks and recreation areas. These can be end bevelled, end domed, slant docked, pointed or rebated and come in sizes ranging from 75 - 175mm diameter and 1.2 - 2.4m in length.
Pines Poles
Pine Poles are useful for a variety of applications including fences, garden borders and sandpits. They are treated and resistant against termites, wood borer and fungal attacks.
Precision Pine Poles are a consistent diameter across the length of the pole and sizes range from a 75 - 175mm diameter and 1.2 - 3.6m lengths.
Tapered pine poles are used in fencing and vineyard posts and feature a slightly variable diameter over the length of the pole, ranging from 50-70mm up to 200 - 225mm diameter. Lengths start at 1.2 up to 4.2m.
Please click here to view the R7 Pine Bollards Technical Data Sheet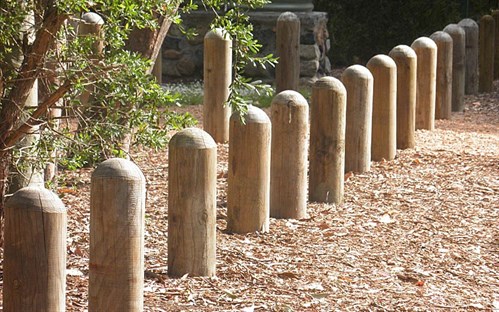 Please enquire to our friendly sales staff for more details on our full product range or to discuss to your requirements.