Ramguard Bollards- Security and Ramraid Protection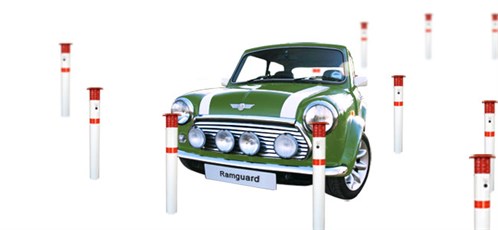 At Ramguard we pride ourselves in designing and manufacturing our own products that exceed the standards of our industry. All bollards and associated products are proudly made in Western Australia.
Ramguard is capable of handling both small and large projects. From a job supplying BP Air Australia with 200 custom retractable bollards and sleeves to a single bollard for a residential driveway, there is no job too big or too small.
Ramguard specialise in manufactoring bollards for mine sites to specific company specifications and industry standards. Examples include the supply of 300 bollards for AGC Industries Pty Ltd, for use on the BHP Jimblebar SP1 Ore handling Project.
All Ramguard bollards have a proven design and are highly reliable. Our bollards are used to protect some of Western Australia's most security conscious sites, including:
*Watercorp *Multiplex *City of Gosnells *Perth Mint *City of Perth *Fremantle Docks *Fremantle Maritime Museum *7-Eleven Service Stations
A selection of recently completed works:

The supply and installation of a series of handrails, toilet doors, security gates and safety ladders for Brookfield Multiplex at the new Perth Stadium which is currently under construction.

The supply and install of a set of custom corten screens and a gate to hide some AC units, an automatic sliding gate, custom ballustrade handrails and custom speaker brackets for Hawke Crest Construction at The Court Hotel.

The supply and installation of a system of stainless steel surface mount, retractable and automatic bollards with a wireless intercom system for City of Perth at the Perth Concert Hall.

The manufacture and supply of 200 retractable bollards for BP Air Australia at Perth Airport to protect airplane refueling connection points during refueling activities.

The design, manufacture and installation of all required bollards, pump barriers, handrails, roof top platforms, service yard gates, bike racks, bin store barriers and custom aluminium louvre panels for Hicom Constructions at various 7 Eleven Service Stations

The supply and install of 40 pine bollards at Helena College.

These custom handrails have recently been installed at Currambine Aldi
Ramguard Bollards is proudly owned and operated by Metal Works Perth, who also run a successful powder coating and abrasive blasting business as well as offering custom designed metal products including letter boxes and planters.

To view our Installation Call Out Rates Terms & Conditions, please click
here
To view our Service Call Out Rates Terms & Conditions, please click
here