Car Park Products: Speed Humps, Wheel Stops, Swing Gates, Grab Rails, Height Clearance Warning Bars
Speed Humps & Wheel Stops
Both our Speed Humps and rubber Wheel Stops are designed as an economical and durable product. They
are both made from a tough recycled rubber compound and are finished with a highly visible yellow hazard pattern. Both are easily installed into either bitumen or concrete, and are light weight and super tough. Our wheel stops can also be made in steel.
Pricing - Supplied & Installed (Perth Metro) * Conditions apply

Wheel Stops including fixings

Price

Specifications

Recycled Rubber Wheel Stop AS 2890 Compliant

$75

Length - 1650, Height - 100, Width - 159

Concrete Wheel Stop. AS 2890 Compliant

$110 +

Delivery

Length - 1650, Height - 100, Width - 160

Speed Humps

Price

Specifications

Rubber Speed Hump/metre

$125

2 Reflective Cats Eyes & Fixings, W - 250, D - 350, H - 53

Rubber End Caps

$20

2 Fixings, W - 175, D - 350, H - 53
Please click here to view the Wheel Stops & Speed Humps Technical Data Sheet
Swing Gates & Handrails
Our swing gates are ideal for securing carparks, lane ways or other restricted areas. Our standard gate is supplied with a latch post for locking the gate (via padlock).
Our handrails are a strong, economical system for use in commercial and industrial applications and can be designed to fit any area or space. Ideal for protecting your equipment and personnel and acting as a barrier for crowd control or directing traffic.
Both our swing gates and handrail systems are also designed to be low maintenance and easy to install. Designed for indoor or outdoor use, as well as day to day use, they are available galvanised or powder coated any colour to suit your exact needs.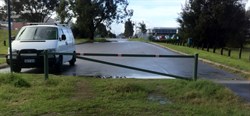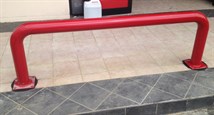 As standard, Ramguard swing gates and hand rails are available with the following features;

Latch Post, end stop & for locking gate closed

Galv Steel Tube construction.

High Quality powder coated finish.

Reflective tape/highly visible

Upto 6 mtr opening, (single gate)

Upto 12mte opening (double gate)

Our swing gates and hand rails are available with the following optional features;

Tamper Proof lock cover

Keyed lock.

Any colour

Signage

Notice mounting (eg Stop Sign)

LED Lighting

Second latch post for securing open
Grab Rails
Suitable for use in public access areas such car parks, shopping centres, traffic crossing areas, parks, footpaths etc, our grab rails and hand rails are available in custom sizes and colours, with Galvanised steel construction, reflective tape and powder coated finish as standard.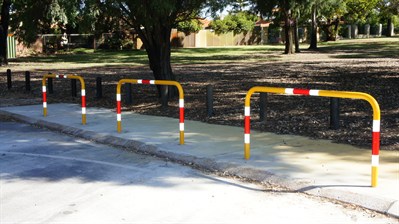 Height Clearance Warning Bars
Provide a visual warning indicator at points of entry for height restricted areas. Reduces risk of damage to buildings and infrastructure and eliminates liability if signs are not adhered to. Please click here to view the technical data sheet for more information.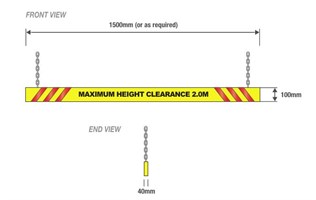 Please enquire to our friendly sales staff for details