Gates & Barriers
Swing Gates
These can be designed and manufactured to suit any opening in order to block access to restricted areas. Available as a single or double gate on a surface mounted or below ground bollard. Please click here to view the technical data sheet.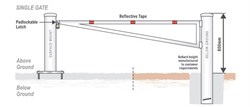 Permanent Chain Gate
These permanently fixed bollards wih chain gate fixtures are ideal for vehicle access to carparks, fenced driveways and security areas. Please click here to view the technial data sheet (on third page of document)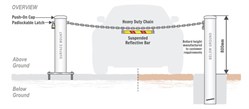 Pedestrian Barriers
Custom designed pedestrian fencing barriers are sectioned with permanent bollard posts and are are ideal for designating pedestrian access areas such as footpaths, carparks and walkways. Please click here to view the tecnical data sheet.